The National Trust in Cornwall offers a host of opportunties for wonderful days out.
Historic castles, country houses, beautiful gardens, mining heritage and scenic coastline - there is something for everybody.
Below is just a small selection of their sites and properties across Cornwall.
You'll find a map for each plus a link to the National Trust website page where you will find more details such as opening times.
Join The National Trust now and you can get free entry to many historic places in Cornwall plus hundreds of others across the whole of the UK. You'll also be helping one of Britain's largest conservation charities.
Click on the banner below for details of how to join and their lalest membership offers. The cost is very reasonable and if enjoy more than one or two days out each year you will easily recoup the cost.
Custom Search
---
Share This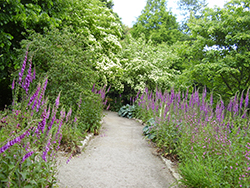 Trelissick Gardens - Cornwall