Buses within and around town - to the holiday parks and car parks, depart from Royal Square. This is opposite the Royal Cinema.
These are operated by St Ives Bus Company.
For details of routes and timetables visit:
St Ives Bus Company - Website
Buses between St Ives and other local towns such as Penzance, Camborne, Redruth and Truro operate from the bus station which is at The Malakoff next to the entrance to the railway station car park.
Coaches cross-country to destinations around the country also arrive / depart here and are operated by National Express. They provide regular coach services into St Ives from all over the UK.
St Ives Coach Park offers FREE parking for coaches, a level surface, buses into town for passengers, facilities for toilet drop and washing - plus assistance for coach drivers from knowledgeable local banksmen:
St Ives Coach Park - Website
Custom Search
---
Share This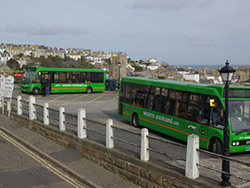 St Ives Cornwall - Bus Station