Jo McIntosh - Textile Artist
Jo's work includes weaving, felt making, beading, knitting, fabric dyeing, silk velvet, rag rugging, paper making and space dyed threads.
She runs workshops for both adults and children, in libraries, schools and community centres around Cornwall. She also runs classes for small groups and offers individual tuition in textile techniques.
She is a great teacher and says - "My aim, in my workshops is to inspire people to explore their creativity and create textile art of their own."
She undertakes commissions and supplies work to galleries and shops.
Her website contains details of her textile art workshops and her work.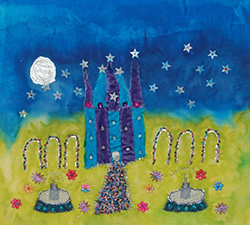 Jo McIntosh - Fairy Palace