St. Ives has a thriving performing arts and music scene, with a large number of local theatre companies, bands and other performers.
There is something on most nights of the week throughout the year.
The range of venues includes St Ives Guildhall, The Royal Cinema, St Ives Arts Club, Boathouse Theatre and St Ives Theatre.
On Summer evenings local brass bands regularly perform on the harbour slipway.
Pubs staging live music include The Queens Hotel, The Golden Lion, The Sheaf Of Wheat and The Lifeboat Inn.
On this page you will find details of various organisations and venues in and around St Ives.
Visit the What's On section of the site for the latest listings of events.
One of the aims of this website is to promote live music and the performing arts. Please do email or send in details of your band or other group and your events for listing.
Custom Search
---
Share This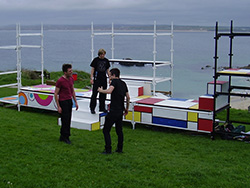 St Ives Cornwall